"We Can Do A Better Job Of Running Routes"
September 9th, 2019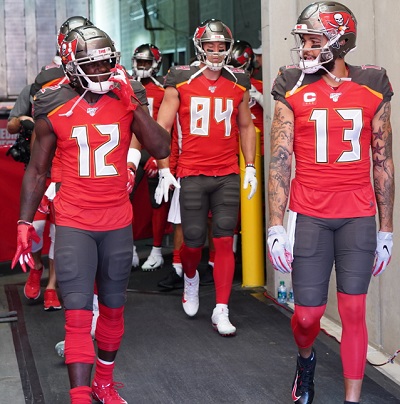 Bucco Bruce Arians was spreading the blame for yesterday's loss around the offense during his news conference today at One Buc Palace.
Yesterday, he said America's Quarterback, Jameis Winston, made a rough decision throwing Peyton Barber's way on a play that led to an early interception by Richard Sherman. Today he said Barber was three yards too deep in his route and that pick really wasn't on the quarterback.
Arians said, "we can do a better job of running routes," referring to all his pass catchers. "Guys have to play better around him."
Ok. Joe will play along on this steamy Monday.
Arians is supposed to have an A-list coaching staff and Joe doesn't recall widespread issues in route running under Todd Monken and the previous Bucs offense. The Bucs receivers and tight ends are all veteran players.
And if Barber screwed up that badly, well, we do keep hearing that running backs coach Todd McNair is a superstar coach.
So the Bucs offense needs better quarterback play, better route running and some better pass blocking, along with better coaching.
Next up, Carolina.