Ultimate X-Factor
September 2nd, 2019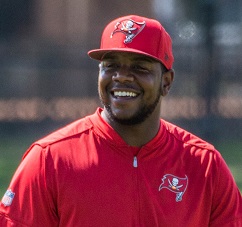 Bucco Bruce Arians is entering new territory with offensive coordinator Byron Leftwich calling plays for the Bucs this season.
We've all heard the chatter from Arians, who has always called plays whenever he's had the opportunity prior to this season; Leftwich was trained by Arians. He's ready. He's smart. He's the man.
The truth is that Leftwich is a wild x-factor for the Bucs. He might be the greatest playcaller of this decade. Nobody really knows.
When Dirk Koetter arrived, he had engineered and called plays for top-10 offenses under two different defensive-minded head coaches: Jack Del Rio and Mike Smith. Koetter was a proven commodity.
Before that, the Bucs had ill-suited Marcus Arroyo filling in for Jeff Tedford, who was just ill. Prior to that Mike Sullivan stepped in as a first-year NFL playcaller in 2012 and the offense hummed.
Joe's not down on Leftwich; he's simply an unknown commodity.
However, Arians keeps saying the team is in win-now mode. They are not rebuilding, he says.
Well, then Joe must wonder, what happens if Arians believes after four games that Leftwich is not as good of a playcaller as he is? Does Arians make a change because he's in win-now mode and feels obligated to do what's best for the team? If Leftwich keeps calling plays and the offense struggles, is that an indication Arians believes the talent is subpar?
And what if Leftwich kicks ass? He'll likely be in line for a head-coaching gig somewhere as the next young stud offensive mind. Then would Arians go back to calling plays, a responsibility that was wearing on him in Arizona?
It's easy to say Arians is calling the shots and will oversee Leftwich with a heavy hand. But nobody really knows whether that will happen.
Joe can't wait to see what Leftwich delivers — and how much developmental rope he'll get if he needs it.