"This Is Just Like Stealing"
September 28th, 2019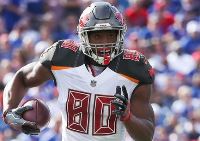 Now this is one of the best things the Buccaneers are doing this season.
No, it has nothing to do with cheerleaders or Shaq Barrett's ridiculous sacks outburst. The Bucs have Rondé Barber breaking down film for the team website each week.
The latest episode is below and he focuses plenty on two successful connections between O.J. Howard and America's Quarterback, Jameis Winston, last Sunday. "This is just like stealing," says Barber, as he outlines how Howard was set up to be isolated on a defensive back.
Great stuff here from one of the great Bucs film gurus of all-time.
Howard is an incredible weapon. So is Mike Evans. So is Chris Godwin. Jameis was balling for most of Sunday. Yet when the Bucs needed to win the game, they opted for the foot of a struggling rookie kicker when there was time to win it with a touchdown. Yeah, it's still driving Joe bananas.
Hopefully, the Bucs find a way to be "stealing" with Howard against the Rams. He was drafted 2 1/2 years ago to terrorize defenses. This would be a great time to kick it up a notch.