The Consensus Fear Factor
September 4th, 2019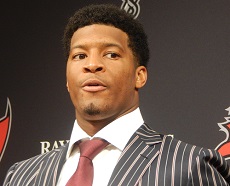 For years, Pro Football Hall of Fame voter Mike Sando has interviewed a significant group of NFL executives and asked them to respond candidly to questions about other teams.
Of course, Sando types up choice nuggets or consensus reports on the answers and upholds his promises to these NFL suits that he won't release their names.
Sando now works for the pay-per-view website The Athletic and he churned out a new piece highlighting executives' concerns about each club. His summary response about the Bucs can be summed up in two words: America's Quarterback.
Sando chose a long quote from one of his mystery panelists to illustrate fear of Jameis.
Tampa Bay Buccaneers

The worry: Jameis Winston is not reborn under a new head coach.

"The fear is, you just did new deals with your head coach and GM, but you could be at the crossroads next year because of the quarterback. There have been signs in the preseason that Winston has the same bad habits he's had all along, no matter how much it has been preached, no matter how much technique he has been taught, no matter what has been built into him by the new staff. My concern is that he reverts to his old habits during games – mechanically, just forcing the ball, turnovers, all that stuff."
Joe feels comfortable saying Team Glazer has no "fear" about Jameis. If they did, he would have been gone when he was labeled a sex offender by the Roger Goodell court of the NFL last year.
Also, Team Glazer should have no "fear" of Jameis having a rough season. If it happens, it happens. That's football. Bucco Bruce Arians has established a quarterback incubator in Tampa with himself and Byron Leftwich, Tom Moore and Clyde Christensen. Is there a better coaching group to groom a rookie QB in 2020?
Joe's not worried about the Bucs and the quarterback position. Running back, defense and offensive line are another story.