Solid First Start
September 8th, 2019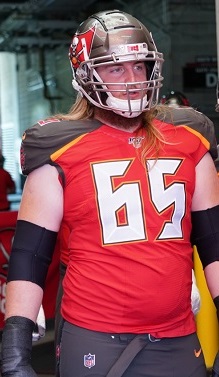 While a couple of second-year Buccaneers on defense showcased their weaknesses today, a couple of sophomore offensive players shined.
Joe already wrote about the emergence of running back Ronald Jones (see the home page). But Joe also has to commend fan punching bag Alex Cappa, starting his first NFL game at right guard. He was not the problem today.
Yes, Cappa got bull-rushed in the red zone for a key third-down sack of Jameis Winston late in the game, but there were hardly many black marks on his report card against the 49ers.
Not bad at all for a guy out of Humboldt State going the distance for the first time against a very talented 49ers defensive front. Cappa's feet looked good overall, and the running game was better than it's been in a long time.
Two weeks ago too many fans were screaming for the Bucs to pick up a guard on waivers or make an eleventh-hour trade to replace Cappa. If the Bucs had done that, the odds are the new guy wouldn't have played as well as Cappa did today.
Let's hope Cappa builds on this game.