Shaqtastic!
September 23rd, 2019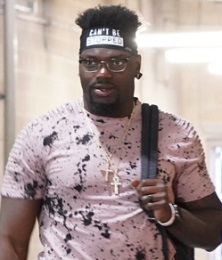 You're reading that headband correctly (not headline, headband).
Shaq Barrett marched into the Den of Depression yesterday telling everyone he "CAN'T BE STOPPED."
And he wasn't lying.
Barrett shocked the football world with his fifth, sixth, seventh and eighth sacks of the season against the Giants, this time dropping a can of whoop ass on veteran left tackle Nate Solder.
The master of what Joe calls the Strip-Shaq, Barrett forced another forced fumble yesterday, his second of the season, and he leads the NFL in both sacks and tackles for loss.
Joe can only imagine what Jason Pierre-Paul is thinking watching Barrett do this from the right edge.
This Barrett explosion Joe of when defensive end Greg White (who became Stylez White) burst onto the 2007 Bucs with a fury, recording eight sacks and a whopping seven forced fumbles as a 28-year-old rookie helping lead a Bucs team to the playoffs. (Imagine that!)
How refreshing it is to see a Tampa Bay free agent defensive lineman play with his hair on fire and dominate.
It would be downright stunning if Barrett can keep pouring it on. Hell, it would be downright stunning if he can manage another seven sacks over the final 13 games has he draws more attention from defenses. That would give Shaq 15 sacks on the season — and at least $20 million guaranteed in a new contract from the Bucs or someone else.