Shaq Barrett & The Front Office
September 21st, 2019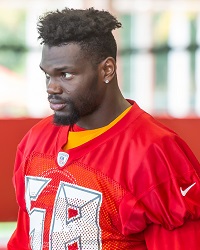 Two games into linebacker Shaq Barrett's Tampa Bay career and he's a local hero with four total sacks.
What will he be in January? An 7 1/2-sack guy? Maybe 10 or 12 sacks?
Joe can guarantee one thing. Barrett, if he's healthy after this season and has at least seven sacks, he will become a very, very rich man. Far wealthier than the $4 million he'll earn this season. Pass rushers under 30 — Barrett is 26 — get monster contracts.
So where does the Bucs front office go from here?
Do they study Barrett through the next four games and try to re-sign him early and get value by waving guaranteed money in front of his face?
Or, do they acknowledge that they're not going to pay him in 2020 and try to trade him before the late-October deadline to a contender for a third-round draft pick? Or do they just wait and see?
The good front offices have a plan and always seem to make a lot of wise decisions and know when to make their move.
When it comes to their Super-Bowl-building plan, Joe's very curious to see how the Bucs approach Barrett, another free agent to be Carl Nassib, and the mystery of Jason Pierre-Paul, along with emerging rookie linebacker Anthony Nelson.
---
Derrick Brooks sits down for PART II of TAMPA TWO with Hall of Fame Sage Ira Kaufman. It's your Giants-Bucs preview edition, presented by Caldeco Air Conditioning & Heating. A production of The Identity Tampa Bay and JoeBucsFan.com.