Rising Up The Charts
September 16th, 2019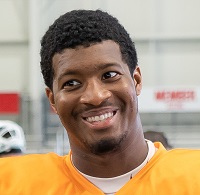 Do the Bucs have one of the better quarterbacks in the NFC South? After this weekend, you can argue, yes.
The NFC South is the richest of quarterback divisions. Three quarterbacks own MVP awards and all three have played in Super Bowls, one has a ring. It is (was?) a division where a No. 1 overall draft pick was considered the worst quarterback, even though he once played in a Pro Bowl.
That is how high the bar is set.
After what we saw the past few days, perhaps America's Quarterback, Jameis Winston, is the No. 3 quarterback in the NFC South, maybe No. 2.
It is fair to suggest either there is something wrong with pouty Cam Newton, the Stinking Panthers' quarterback, or that all the hits he has endured in his career have caught up with him. He sure looks closer to retirement than a quarterback in his prime.
Then yesterday Saints quarterback Drew Brees, a certain Hall of Fame quarterback, tore up his right thumb and was unable to grip a football. He is scheduled to see a hand specialist in Los Angeles and scuttlebutt in the NFL medical community suggests he will need surgery for torn ligaments.
Brees is 40. That's a bad combination — 40 and requiring surgery for frayed ligaments in your throwing hand.
So Joe believes it is fair to suggest Jameis is the No. 3 quarterback in the division, and until Brees returns and returns to form, could be the No. 2 quarterback in the division.