Prime Target
September 12th, 2019
Now this is why Joe likes NextGen stats: They are enlightening and there is no room for fudging or "adjusted" gibberish.
NextGen stats are different stats that come straight from sensors on players equipment. Bucs fans at training camp practices might have seen players take off their gear and noticed them wearing vests, those are loaded with sensors for both sports science and overall tracking. It's sort of similar to how players are tracked in games with radio frequency tags on shoulder pads.
These sensors simply download (or upload) the data into software packages and, voila! You have the bare, raw numbers.
NextGen stats are managed by the NFL. New data showed the top five receivers in percentage of overall targets (minimum of 100) coming in the end zone since 2016.
And who is No. 5 on the list? That would be Bucs receiver Chris Godwin.
Interesting to Joe is a lot of Bucs fans worried that losing Adam Humphries, a favorite target of America's Quarterback, Pro Bowler Jameis Winston, would hurt Jameis. Joe doesn't disagree. But it isn't as if Jameis doesn't target other receivers.
Sunday, Cam Brate demonstrated why he is still on the Bucs and why he is also a favorite target of Jameis in the end zone. Just judging play on the field, Brate was the Bucs' best tight end Sunday
NextGen stats do not lie. Though this is his first season as a full-time starter, it is clear in the money end of the field, Jameis likes to throw to Godwin, who had the Bucs' lone touchdown catch in Week. 1.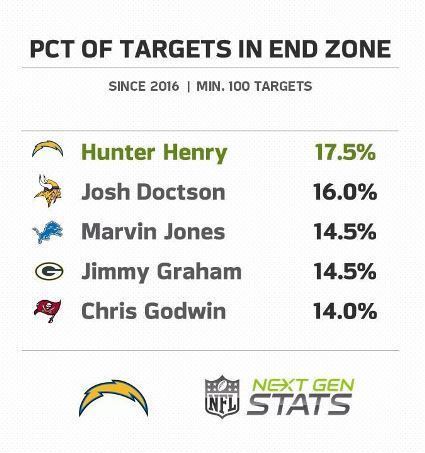 ---
Derrick Brooks Talks Avoiding 0-2, Stopping Christian McCaffery, Gerald McCoy Reaction & Guidance & More. It's a can't-miss TAMPA TWO looking at the Bucs-Panthers game TONIGHT! Presented by Caldeco Air Conditioning & Heating. A production by The Identity Tampa Bay and JoeBucsFan.com.