Be Consistent
September 12th, 2019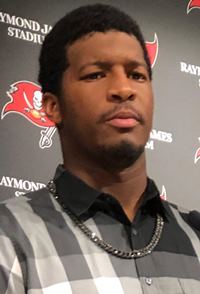 A linebacker who is a three-time Super Bowl champion thinks he has the answer to the problems of America's Quarterback, Pro Bowler Jameis Winston.
Consistency.
It's not a novel concept by any means. But buried in the words from former Patriots linebacker Willie McGinest on NFL Network, is serious doubts about Jameis.
Here is what McGinest said that troubled Joe. McGinest doesn't know if Jameis can make plays that can carry a team. When he tries to make plays, they often blow up in his face as we witnessed Sunday. Former Bucs tight end talked about the same kind of thing this week: Jameis struggling with "big-moment" throws.
There is no question Jameis is surrounded by talent. But dang, it seems like Jameis is getting worse, not better. Jameis was playing better when he had trash surrounding him like the misplaced Calgary Stampeder, Donteea Dye, and the pride of the velvet-lined lounge of the Vero Beach Ramada Inn, Freddie Martino.
See and hear McGinest's words in the NFL Network video below.
What can we expect the @Buccaneers to improve upon on #TNF? @WillieMcGinest NEEDS CONSISTENCY 😤#TBvsCAR pic.twitter.com/UYslcF1GtO

— NFL Total Access (@NFLTotalAccess) September 11, 2019