Power Play, Power Shift
September 13th, 2019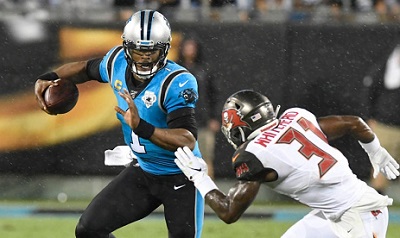 Joe believes last night's Buccaneers victory on the road at Carolina represented a major change in the NFC South balance of power.
Just look at what didn't happen.
On the Panthers' first drive, Cam Newton was no match for bone-rattling Bucs safety Jordan Whitehead on a 4th-and-1 run to the right at the Bucs' 47 yard line. The Bucs turned that into the first score of the game, a 40-yard field goal by Matt Gay. It was a massive play by Whitehead.
Two more times did Newton and the Panthers have a 4th-and-1. Once he threw incomplete and once the Panthers ran a gadget play to Christian McCaffrey that ended the game when Vernon Hargreaves was too much for the Pro Bowl running back.
In past seasons, Newton runs all of those up the middle and converts. (See the Bucs loss at Carolina in 2017.)
In addition to displaying a washed out arm last night and on Sunday after multiple shoulder issues, Newton, possibly the greatest running quarterback in history, has now has been neutered in the running game. It was there for the nation to see last night.
The Panthers have now lost nine out of their last 10 games. How long will Ron Rivera last?
Joe watched the Panthers push around the Rams quite a bit on Sunday, but they made so many mistakes they couldn't recover in that game. Now the Bucs defense has choked them out on their home turf.
The Bucs should be a better team than the Panthers this year, and the Panthers are on the brink of an implosion. Are the Falcons next?