"A Big Ol' Brick"
September 13th, 2019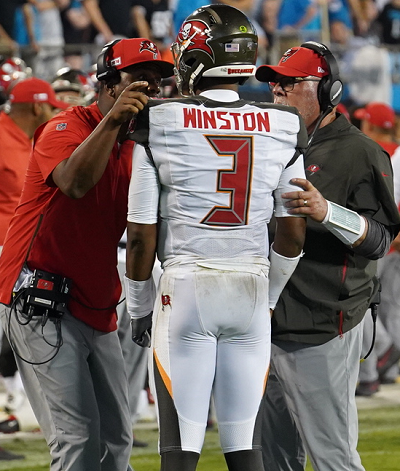 The impact and meaning of the Buccaneers' thrilling road victory last night is to be determined.
A big step in the right direction? A sloppy step forward before two steps back? That's up to the Bucs and the mettle of Jameis Winston and Bucco Bruce Arians.
As ProFootballTalk.com NFL super insider guru Mike Florio discussed this morning on PFT Live, the Panthers deserve a ton of criticism for their decisions on what could have been the game-winning drive late in the fourth quarter. And that, per Florio, likely will overshadow the strong Bucs defensive performance and Tampa Bay's good-enough and balanced offensive attack on the road in sloppy conditions.
But Florio caught himself while throwing darts at the Panthers and said regardless of how the game is perceived, the Bucs should be able to use that win as "a big ol' brick," meaning a building block for a new regime and a quarterback who needed to re-establish solid ground.
Joe likes the analogy. That win has to be a building block.
No, the Panthers aren't too good, but they have talent and any Thursday night road win is a major accomplishment. Just look at the history of road teams on Thursday. But more important, the Bucs played a balanced game and continued to grind to the final whistle.
It wasn't spectacular by any stretch, but it was something to build on.
Go beat the Giants a week from Sunday. Then go compete against great teams on the road and punish the Panthers in England before the bye week.
If the Bucs find their way to a 3-3 record at the bye, that would be as good as five more "big ol' bricks" on the house Arians is trying to build.