Niners Taking "Sweat-Filled Measures"
September 3rd, 2019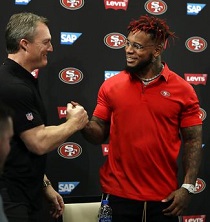 Bucco Bruce Arians isn't the only guy with a staff that studies player performance.
Over in the other Bay area, 49ers officials are dialed in to the likelihood of playing the Bucs on Sunday in 90 degree temperatures and high humidity at the Den of Depression in Tampa.
Jacob Hutchinson, 49ers reporter for KNBR radio, typed on some details on how San Francisco is going above and beyond to prepare.
In order to deal with that, some sweat-filled measures have been put in place.

According to starting left guard Laken Tomlinson, the team's head strength and conditioning coordinator Dustin Perry has cranked up the temperature in the weight room to about 100 degrees. In addition to that, the team's head of player health and performance, Ben Peterson, brought out a hot tent where the team stores some of its stationary bikes; players hop in and out of the tent, often after practice, to get acclimated to the heat. Tomlinson said it feels like it's 110 degrees in the tent.
Joe sure hopes the Bucs can finally find a home field advantage this season, especially in the fourth quarter of early-season games in the Tampa swelter. Joe keeps hearing about somehow the choking heat on the home turf is a benefit, but the reality has been something different.
If Kwon Alexander makes a play to win Sunday's game late, Joe will cascade into a deep depression. Hopefully, the Bucs will win this extremely winnable game.