Next Hurdle, Jameis Winston's 12-Game Road Losing Streak
September 9th, 2019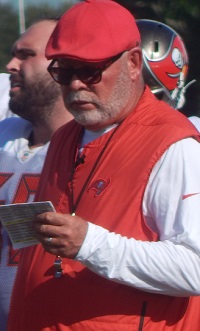 Yes, as America's Quarterback, Jameis Winston, prepares to face the Panthers on Thursday night, in the back of his mind he knows he hasn't won a road start since 2016.
That's 12 consecutive starts — and dozens excuses for the don't-blame-Jameis crowd.
In addition to fixing whatever is wrong with Jameis following yesterday's embarrassment at the Den of Depression, head coach Bucco Bruce Arians also must consider the mental baggage that inevitably comes with a 12-game losing streak of any kind.
This summer, Joe had manbeast JoeBucsFan intern Zach Seifter (who has retired to the University of Florida campus) perform exhaustive research to learn what former quarterbacks have been in the road-loser boat with Jameis — or least close to it.
Trent Dilfer lost 10 consecutive road starts with the Bucs over the 1995 and 1996 seasons. That's not a dirty dozen like Jameis, but that's a long run. David Klingler lost 14 straight with the Bengals from 1992 to 1994. Those aren't QB names to be associated with proudly.
Moving into this century, David Carr lost 12 road starts in a row quarterbacking the Texans (2005-2006), and Joey Harrington racked up 13 with the Lions (2002-2003). Daunte Culpepper churned out 14 straight Ls away from Minnesota (2000-2002), and Chucky's beloved Jake Plummer lost 10 straight on the road with the Cardinals (2000-2002).
Joe's not a big believer in coincidences, a 12-game losing streak on the road is more than just rotten defense and a 2017 season of the regime forcing innocent Bucs fans to endure Doug Martin running for 2.9 yards per carry after he was benched and then suspended for drugs.
Hopefully, Arians and his cadre of offensive super gurus have the answer Thursday. The next road games for Jameis are in Los Angeles and New Orleans.