Losing Culture Alive And Well
September 22nd, 2019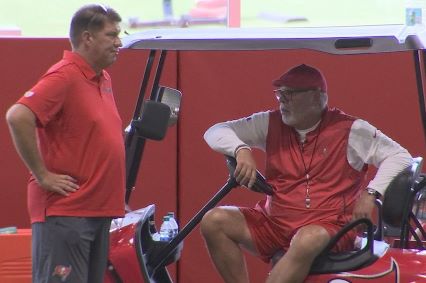 Perhaps the saddest aspect to today's shocking crumble at the Den of Depression is how the Bucs didn't play with the same intensity in the second half that they displayed in the first.
Instead of stepping on the proverbial throat of the Giants, they went soft.
That doesn't jibe with the Bucs signing tough-minded players, or developing a winning culture. The coaches were outcoached today. The players were outplayed. And the front office's notorious kicking-game incompetence was on full display. And poof, the Giants, a bad football team, cut a 28-10 halftime deficit to a three-point deficit very quickly.
Did the Bucs wake up after that? Absolutely. But it still wasn't enough, even with Saquon Barkley out of the game and a rookie QB leading the Giants.
That's the same ol' Bucs, the team that's given Bucs fans agita and heartache for years and years.
And that's not why Bucco Bruce Arians was hired. Teams with real franchise quarterbacks and real leadership don't lose like that.
Arians has a great teaching opportunity here, a chance to teach players how to bounce back from a horrendous loss at home and not let this groin-kick of a loss to effectively end the season with games next against the Rams and Saints on the road. And make no mistake, if the Bucs fall to 1-4 the season is over — in October. Again.
It may be wait-til-next-year for the Bucs and the playoffs. But there's still loads of time to eradicate the team's losing culture.