Leftwich Stripped
September 23rd, 2019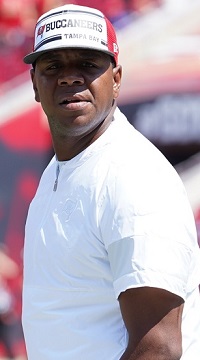 Offensive coordinator Byron Leftwich endured a strip-sack by his head coach late in the fourth quarter yesterday.
These aren't Joe's words; it was Bruce Arians talking in a postgame interview that most fans didn't hear.
The head coach did his usual spot on the Buccaneers Radio Network last night and talked about the Bucs' 3rd-and-2 call on the Giants' 5 yard line with 6:48 remaining and the Bucs leading 28-25.
The Bucs had been pounding the rock, six consecutive runs to Ronald Jones, in fact. Leftwich had taken the ball out of Jameis Winston's hands after an interception closed the previous Bucs drive. And it was working.
And then in came Bucco Bruce Arians.
The next call was his; he pulled an override/overrule on Leftwich and regretted his decision to seize command and temporarily defrock his playcaller. Arians repeated that today with different language.
The play was a run-pass option, with Jameis in the shotgun, of course. Peyton Barber got the call and Jameis put it in his gut rather than keep it. Barber was stuffed running left and Arians said the blocking broke down.
What Arians did not say was that Leftwich agreed with the call.
Here's what Joe knows: The Bucs are paying Jameis $21 million and Mike Evans is in the same ballpark. If you don't want those guys handling the rock, then something might be off. And isn't that the perfect time to run play-action with all those weapons?
Damn. The Bucs had two downs to put the game away there and they went with a gadget-type play to Barber and a field goal — at home.