"Will I Have Long Term Effects Of That? Yeah."
September 17th, 2019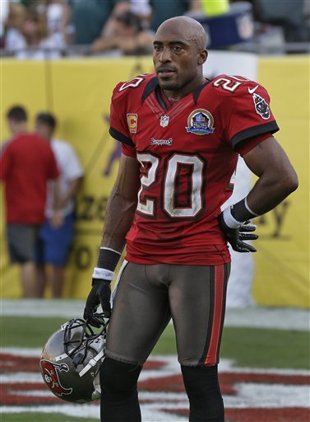 Iconic Bucs cornerback and ironman Ronde Barber will become the next member of the Buccaneers Ring of Honor on Sunday.
Yesterday, he shared quite a slice of Bucs history.
Barber had spoken previously about playing through a torn PCL (knee) and a broken bone in his hand during the Bucs' Super Bowl run in the 2002 season. And back in 2010, while still paying, Barber referenced his "one knee that doesn't straighten all the way out."
Yesterday, though, Barber said he is still paying the price for playing through that torn up knee 17 years ago.
"Is there a difference between playing hurt and injured? Absolutely," Barber told the Buccaneers Radio Network. "There's only one time that I was really injured and played. And that was during our Super Bowl year, when I tore my PCL and had no business continuing to play. But I had a feeling that it was our year and I wasn't about to miss it because of something that I felt that I could play through. And will I have long term effects of that? Yeah. … The play in Philly doesn't happen if I take two or three weeks off. Who knows? You just don't know. You just don't know."
Of course, long-time Bucs fans know "the play in Philly" Barber referenced.
Many Bucs fans talk about winning and losing cultures. When you know the guy next to you is grinding — and succeeding — through a serious injury, that's a culture-builder right there. That kind of effort and dedication on a good team rubs off a lot. On a bad team? Not so much.