"Jameis, I Know All Your Escape Moves, Buddy."
September 11th, 2019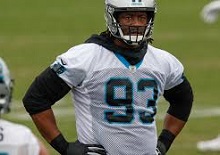 Gerald McCoy was doing a lot of talking yesterday at his locker inside Panthers team headquarters.
If you have a strong stomach, you can watch the session at Carolina's official website.
Joe's written about a couple of McCoy's non-football comments (scroll down Joe's home page), and he also talked about things that tie directly to tomorrow night's showcased Bucs-Panthers game on national television.
"I'm tellin' everything," McCoy said about sharing Bucs tendencies and secrets with his Panthers teammates.
McCoy plans to a valuable resource and he says he knows how to counter the Bucs' offensive line and America's Quarterback, Jameis Winston. "
"I already know what they're going to try to do to me, but I know how everybody blocks," McCoy said. "I'm kind of helping put together matchups, matchup problems."
"Jameis, I know all your escape moves, buddy."
Practice tempo is always different than game action, McCoy said, so the Bucs' offensive line might be in for a surprise. Of course, McCoy didn't seem to allow for the fact those Bucs offensive linemen have their own tempo.
Joe's wondering whether the nasty version of Ryan Jensen will appear tomorrow night. And did former Bucs guard Ian Beckles ever make that phone call to Ali Marpet?
The Bucs better clamp down on McCoy, who played only a shade over half the snaps in the Panthers loss to the Rams on Sunday. The thought of McCoy making a big play in this game combined with a Panthers victory is too much for Joe to bear.