"I Thought He Was Light's Out Finding Everybody"
September 29th, 2019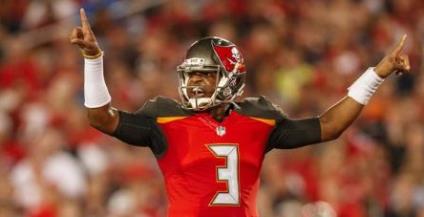 America's Quarterback, Jameis Winston, spread the ball around to eight receivers today, completing 68 percent of his passes and spraying four touchdowns to Cameron Brate, Mike Evans and Chris Godwin.
For the contract-watch crowd, Jameis now has two good games and one superstar game this season to complement one clunker.
"I thought he was light's out finding everybody," Arians said after the game.
And Jameis was.
Yeah, there was one ugly blunder. That appears to be Jameis, his DNA. But that ugliness never matters when you win and you carve up an excellent defense on the road.
It's very interesting to Joe how Jameis is no longer scrambling, just one today for -1 yards. He was pocket passer extraordinaire today. And as Joe already has written, there's no reason he can't play like this every week. He forced little and was quite accurate, more than he was against the Giants.
The deep ball to Mike Evans was a thing of beauty, perfect throw at the perfect time.
Keep it rollin', Jameis!