"I Don't Know Where Those Calls Came From"
September 11th, 2019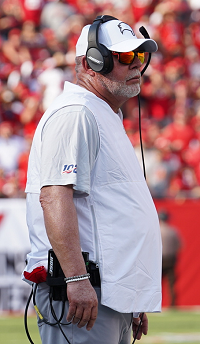 Bucco Bruce Arians completed his deep film study of Sunday's mess and he certainly consulted with Bucs staff member retired NFL official Larry Rose.
And still, Arians can't figure out why right tackle Demar Dotson was flagged twice for crushing holding penalties.
"I thought Dot did a heck of a job on the screen. And he got bull rushed the second time and there was no restrictions [of the defender]. I don't know where those calls came from, but they were made. You try to overcome them," Arians said yesterday on the Buccaneers Radio Network.
Joe was intrigued by Arians' comments. He's a straight-shooter and certainly wouldn't hesitate to say his 11-year veteran tackle was guilty of holding.
Also intriguing was Arians' son Jake delivering a blistering rant on NFL officiating during his fantasy podcast for The Draft Network.
The touchdown-thieving calls were especially tough for Joe to stomach. Dotson's a veteran, the Bucs were at home and Arians is the kind of old-man head coach Joe would think officials would give a tiny bit of extra respect.
Still, the Bucs can't blame the loss on crappy officiating. The 49ers got their share of rough calls, too.
Joe just hopes the bad officiating doesn't land Arians in the hospital, where he said it put him during his last coaching stint.