Byron Leftwich: QB Stats Aren't Very Important
September 11th, 2019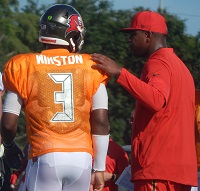 If anyone needs a victory tomorrow night at Carolina, it's Jameis Winston.
The dude hasn't eaten a road "W" as a starter since December 2016.
That's a mind-numbing stretch of games and another mental hurdle America's Quarterback will need to overcome, in addition to shaking off a rough day against the 49ers on Sunday.
So is it fair to grade a quarterback on wins and losses? That's a fun debate.
The stat sheet is nice and meaningful, but anyone who has played sports at a truly competitive level will attest that being a winner is true intangible factor. Some people are just better at winning than others, and it even shows up in a team sports.
Joe's not calling Jameis a loser, but Joe wonders whether there are just too many better winners than Jameis at the quarterback position around the league. On Monday, former Bucs tight end Anthony Becht ranted on WDAE radio about how Jameis has been poor through his career at "big-moment throws," and Becht said there were examples of that on Sunday.
Yesterday, offensive coordinator Bryon Leftwich was asked about his current message to Jameis and the tail end of his answer was all about how stats aren't too significant at the quarterback position.
"This thing's about wins and losses; it's not really about how many touchdowns you throw or anything like that," Leftwich said. "You gotta find ways. And when you play that position, you gotta find ways to win football games in any stadium. Your stadium, road stadiums, all you're trying to do is walk out of that arena with a victory. That's all his mindset should be. That's all our mindset is."
Just win, baby. It's been said for years.And the phrase has never fit a quarterback better than it does Jameis right now at his point in his career.
He must find a way to win games. It may not be fair or just, or logical to put it all on the quarterback. But overall, that's the NFL standard.
Joe's doubts there is one quarterback in modern NFL history (research hasn't revealed one) who has been a Day 1 rookie starter for a team and earned a sixth year without reaching the playoffs.
That's not a coincidence.
---
Derrick Brooks Rates The Defensive Performance, Talks RoJo, Turnovers And Takes Fan Questions With Ira Kaufman; It's A New TAMPA TWO presented by Caldeco Air Conditioning & Heating, Another stud production from The Identity Tampa Bay and JoeBucsFan.com.