"I Ain't Got The No Buzz Memo"; Aqib Talib Lauds Team Glazer, Buccaneers
September 27th, 2019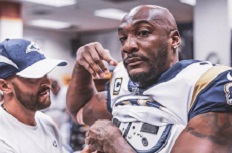 One of the great football players to ever wear a Bucs uniform was asked about his former team in front of his Rams locker this week.
As usual, 33-year-old, helmet-wielding, cabbie-slugging, Adderrall-popping, coach-cussing, referee-charging, pistol-friendly, granny-hassling Rams cornerback Aqib Talib, the Bucs' 2008 first-round pick, had a colorful answer.
A noted film junkie, Talib said the Bucs are very dangerous and he rattled off the names of Tampa Bay tight ends and receivers. "They actually could honestly be 3-0 right now if you sit down and watch all their games," Talib said.
A reporter then told Talib that there's no "buzz" around Sunday's Bucs-Rams matchup and tickets are going for peanuts on StubHub. She wanted to know how the mighty undefeated Rams will avoid a letdown.
Talib was in disbelief. "There's a big buzz at my house," he said, noting his friends and family want to see him play his old team. "I ain't got the no-buzz memo."
Despite his off-field issues, Talib played well in Tampa, notching 18 interceptions and three touchdowns in 4 1/2 seasons. A reporter asked him if he has good feelings about the Bucs.
"They made me a millionaire, man," Talib said. "Took a chance on me. I was in trouble and stuff. Red flags. They easily could have let me fall to whatever round.

"The Glazers took a chance with me. I feel like I started my career off great in Tampa, man; it's the first part of my career. So it's great. I wouldn't change it for the world. I love Tampa for that."
As for his bad-guy reputation with the Bucs before thriving with the Patriots, Broncos and Rams, Talib explained that he just needed to grow up. "I just had a couple of birthdays and got older. That's it."