About Bruce Arians' 100-Catch Goal For Chris Godwin
September 27th, 2019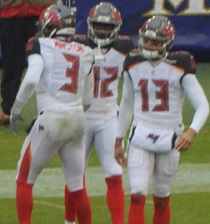 Head coach Bucco Bruce Arians said multiple times during the offseason that Chris Godwin is a 100-catch guy in this Bucs offense and would be the kind of receiver who would never come off the field.
On the latter, Arians was not kidding. Godwin has played more snaps than Mike Evans, nearly 95 percent of all Bucs offensive plays.
He blocks, he catches, he's physical, he's a versatile workhorse and is just 23 years old. The Bucs struck goal with Godwin in Round 3 of the 2017 NFL Draft.
However, Godwin is on pace for 101 targets this season. That's a nice workload, but that won't going to get him close to 100 catches. That pace might land Godwin 75 catches. Maybe.
Joe brings this up only because it illustrates that the Bucs aren't quite using Godwin yet in the way they envisioned. He's supposed to get more touches. So are the tight ends. Joe's eager to see how Godwin evolves within the offense, especially after Mike Evans just turned in a performance that will scare the crap out of a many defensive coordinators around the NFL.
First, though, Godwin has to be healthy. He missed Wednesday and Thursday practices with a hip injury.
Joe has heard encouraging words about mauling, revitalized center Ryan Jensen (back issue) playing Sunday against the Rams, but Joe has not heard the same comforting news about Godwin. There's nothing good about the thought of a Godwin-free Bucs offense.