"Hopefully They Dumb The Game Plan Down For Thursday Night"
September 8th, 2019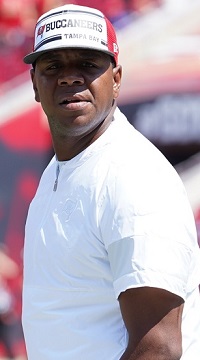 Mentally speaking, America's Quarterback, Jameis Winston, does not look like the quarterback the Bucs need him to be.
An ex-Buccaneer working for the Buccaneers clearly sees that and served up a harsh suggestion.
The heavyweight analysts on the Buccaneers Radio Network, former Tampa Bay tight ends Dave Moore and John Gilmore, were not happy with the play of Jameis in the season-opener tonight.
As usual, Moore went into great Xs and Os detail about Jameis' screw-ups, and Gilmore was a little more plain-spoken.
That fourth-quarter intentional grounding call against Jameis, when he stood in the pocket and fired the football on a flight path to Oldsmar while under duress, it had Gilmore shaking his head.
"Is he trying to hit Tim McGraw? Things like that from a five-year quarterback, you can't have that," Gilmore said.

He took it a step further and said it's time to radically overhaul the plan for the Panthers in four short days.

"Hopefully they dumb the game plan down for Thursday night, lean on the run," said Gilmore, who was impressed by how offensive coordinator Byron Leftwich played the hot hand in running back Ronald Jones late in the game. Gilmore also suggested pounding the rock with Jones might have been a reflection of lost trust in Jameis.
Is this what it's come to, the Bucs needing to "dumb the game plan down" to play a division rival in Week 2? Joe sure hopes not. Joe hopes Leftwich and Bruce Arians test Jameis with whatever should work if the quarterback executes properly.
So much of this season is about finding out what Jameis can handle, practically waving a white flag on Sept. 12 won't accomplish that.