Green-Dot Hype And Reality
September 5th, 2019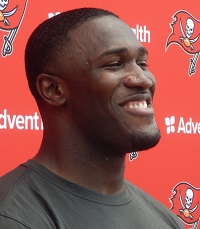 Defensive coordinator Todd Bowles was talking today about how impressive and uncommon it is for a rookie like Devin White to come in and command a defense with the green-dot, communication helmet and the responsibility for lining up defenders.
Joe can't buy that 100 percent.
Former Bucs linebacker Mason Foster jumped in as a rookie in 2011, no offseason because of the lockout, and took over the same defensive responsibilities. He thrived, so did the defense early, until the Bucs closed the season with a stunning 10-game losing streak.
A year later, Lavonte David got the call for the green dot, and the run defense ranked No. 1 in the NFL.
In 2015, it was Kwon Alexander's turn to take the reins out of the gate as a fourth-round pick. The Bucs were 6-6 and fell apart when Kwon missed the final four games of that season with a suspension.
So Bowles saying it's uncommon for a rookie linebacker to jump in and be the quarterback of the defense isn't really accurate. However, all three of those players have had careers that exceeded expectations for their draft position, so Bowles is correct that it's a fantastic sign for White to be handling go-to guy duties from Day 1.
"He does a great job at it. He understands it. It's not too big for him. So we're very excited about that," Bowles said. "The physical abilities take care of themselves for him."
Joe can't wait to see White unleashed and featured in the defense. No, Joe doesn't expect White to look like the Day 1 savior Bucs officials believe he will be. But White should look like a No. 5 overall pick over the course of the full season, which is a very high bar.
---
Derrick Brooks Talks Red Zone Defense & "Critical Growth Area Of Jameis,"; It's A Week 1 Look From Derrick Brooks & Ira Kaufman
YES!!!!! It's game-week on TAMPA TWO! Presented by Caldeco Air Conditioning & Heating, another stellar production from The Identity Tampa Bay and JoeBucsFan.com.