"Give Him His Money"
September 15th, 2019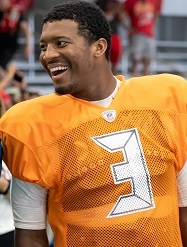 A Super Bowl champion receiver has been dissecting America's Quarterback, Jameis Winston, for NFL Network, and he's come away very impressed.
Before and after Thursday's Bucs win, ex-Packers receiver James Jones was on the Jameis bandwagon. The quality video below is from an NFL Network postgame wrap-up, where Jones got into detail about special plays made by Jameis.
"A couple more games like this and you're looking at a $100 million quarterback," Jones bellowed after noting he was appalled by wide receiver Breshad Perriman.
Jones didn't want to hear any negativity when reminded of Jameis throwing a ball into Luke Kuechly's hands that the All-Pro linebacker didn't squeeze. "Give him his money," Jones said.
All the chatter is a fun listen, but Joe is confident only one man will decide whether Jameis gets one of the fat contracts handed to veteran NFL starters: Bucco Bruce Arians.
Team Glazer, Jason Licht, they'll be yes-men to Arians on this matter.