Clean Jameis, Victorious Jameis
September 13th, 2019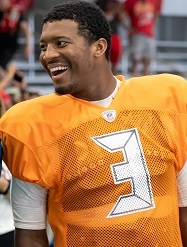 No turnovers. Decent running game. Solid defense.
Voila! America's Quarterback, Jameis Winston, has a road victory in his pocket.
It was a clean game for Jameis tonight. He finished 16-for-25 for 208 yards and a touchdown. No picks. No fumbles. No looking like a rookie not big enough for prime time.
He certainly looked better than rusty, I-don't-run-anymore Cam Newton.
No, this beating of the Panthers won't go down in the Jameis highlight of great performances. But Jameis made some big-time throws (as he always does) and they were enough.
If Breshad "Scissors-hands" Perriman could track a ball in the end zone, it might have been a special night for Jameis. But it happens. And he didn't crumble.
Huge progress after Sunday's debacle.