Arians Talks About What Jameis Needs To Do To Be The Bucs' Franchise Quarterback
September 14th, 2019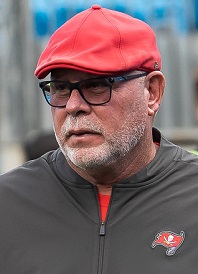 Speaking on national radio yesterday, the boss of the Buccaneers was given golden opportunity to tell the nation that Jameis Winston will be the franchise quarterback for the Bucs for 2020 and beyond.
Bruce Arians passed.
No, Joe is not saying Arians is down on Jameis. Hardly. But Joe will continue to find it intriguing that Arians isn't calling Jameis his quarterback of 2020 and beyond — until he actually does.
"What do you have to see out of Jameis to know, as you move forward, he's your franchise quarterback?" Dan Patrick asked him on The Dan Patrick Show.
"Just like he played [Thursday] night," Arians replied. "In the first game, guys around him didn't play as well. This time, he had a good solid running game. He did a heck of a good job protecting the football and making some plays."
Yes, Jameis played well. Hopefully, he gets to the point where he's having three good games out of four, perhaps even four out of five.
Joe wonders how Arians would answer that same question on Halloween. Joe can only hope his reply goes something like, 'I already know, Dan.'
Arians was rather subdued with Patrick. He sounded a bit tired. During the interview, Arians said the Bucs arrived in Tampa from Charlotte at 3:30 a.m. on Friday and he went to bed after throwing back his share of whiskey.
The head coach also shared the Bucs' locker room seen after the win moved him. "I had tears in my eyes just watching the guys celebrate,'" he said.
You can watch the full interview below.