Bruce Arians Talks Fearlessness
September 30th, 2019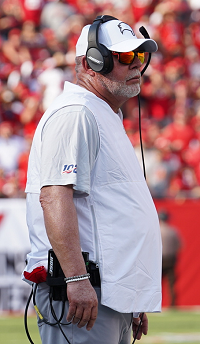 Bruce Arians proved his fearlessness to Joe against the Rams when he sent Matt Gay out for a 58-yard field goal. That was a gutsy call.
If Gay misses that the Rams have the ball on their 48 yard line and Gay's confidence is likely shaken a bit.
Arians was asked today about One Buc Palace about fearlessness and its role on in his program.
Arians explained he wants players to breathe and let it rip without thinking much, though understanding your role is critical.
"You have to play fearless. And that's one of my biggest messages to Jameis. Throw it. Don't worry about it, just throw it and know why you're throwing it," Arians said. "We have to play that way. We still have some young DBs who are playing a little careful, and my message to them is 'it's time to play fearless.' If you make a mistake, you make a mistake, but don't hold your breath. Alright, let it go."
Joe has to be more fearless, too, when it comes to the Bucs. However, Joe is a bit afraid of the thought of the young cornerbacks, including veteran Vernon Hargreaves, playing more fearlessly.
Regardless, the mentality is right. Few winning NFL programs play to keep things close or to not get burned. That's why Joe and many other fans lost their collective minds against the Giants two games ago.
Yesterday, Arians and the Bucs made Joe extra proud to be a Bucs fan.