Bellcow Barber
September 13th, 2019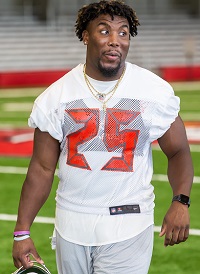 The Buccaneers' confidence in Peyton Barber versus fellow running back Ronald Jones was on full display tonight in the soul-crushing of the Stinkin' Panthers tonight at Carolina.
Four carries for Jones and 23 for Barber, the most carries he's had in a game since an overtime loss to Green Bay late in the 2017 season.
Even after Barber got tackled for a safety when he probably could have/should have powered forward to avoid it, the Bucs kept pounding Barber.
Like he did last season, Barber grinded and grinded and grinded out his yards. Few of his 82 yards came easy, including the extra effort to get in the end zone to cap a 16-yard run up the gut in the third quarter. Jones added nine yards on four carries.
After the game on the Buccaneers Radio Network, Bucco Bruce Arians said he loved how the Bucs ran the ball.
It's Barber's show in the Bucs backfield. That was made very clear tonight. Jones fans are going to have to wait patiently.