Rondé Barber Gets Bucs To Fix His Name
September 22nd, 2019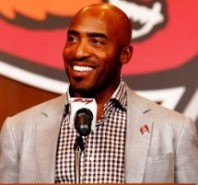 Would it surprise you to know the Bucs were spelling the name of a franchise icon incorrectly for years?
Of course not.
A fun and timely nugget here before Rondé Barber is added to the Buccaneers Ring of Honor at halftime today. For years the Bucs were spelling "Ronde" without the accent mark. And Barber finally put his foot down and got the record straight this year.
When his name is revealed today on the stadium facade, you will see the accent mark. Buccaneers.com began including the accent over the "e" consistently in recent months.
Barber was eager to get things straight so his name would not be forever enshrined spelled incorrectly.
This reminded Joe of when former head coach Greg Schiano didn't make sure the Bucs were letting everyone know how to pronounce his name. Schiano rhymes with piano, but many fans and media said it differently. It was awfully odd for a coach who prided himself for being all over the details. Schiano said he didn't care if people or players got it wrong.