Why The Nonsense, Byron?
August 21st, 2019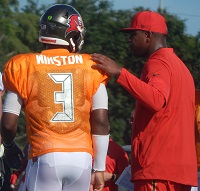 It's borderline wacky how the new Bucs regime is talking about — and apparently handling — Jameis Winston.
Joe included the following quotes early this morning but it bears a quick deep dive.
Yahoo! Sports penned a feature on America's Quarterback that contained comments by Byron Leftwich, the Bucs' new playcaller and offensive coordinator.
"This is not a situation where we all have to put our heads together and fix Jameis. This kid don't need fixing," said Leftwich, who will call the offensive plays this season. "I think I can help him play better football. That's all I'm trying to do. I don't think he's ever played bad football. That's the misconception. …

"You look at what this kid did his first year in the league — it's all-time great, right?" he said of Winston, who became the first NFL quarterback to eclipse 4,000 passing yards in each of his first two seasons. "Look what he did in the beginning. You didn't get the win-loss record that you wanted, but being in that position, a lot goes into winning football games."
First, if Jameis didn't need fixing, there wouldn't be four QB coaches in his ear. There is nothing wrong with needing coaching/fixing; Joe doesn't get the regime's need to spin Jameis as anything other than an inconsistent young player with a load of talent.
On that note, Leftwich said he doesn't think Jameis has ever played bad football. Well, if that were the case, then Dirk Koetter would still be head coach and Jameis already would have a new contract. The reality is Jameis has had turnover issues since he entered the NFL. Every Bucs fan has seen him play bad football — except for Leftwich.
The levels to which the Bucs are working to reinvent Jameis are rather extreme — yet at the same time the Bucs apparently want everyone to believe Jameis is a stud who just needs a better team around him.
Consider what Jason Licht detailed two weeks ago about being pleased Jameis isn't a rah-rah guy any longer and Licht prefers the new and different Jameis. Meanwhile, the rah-rah QB and the overall-team-leader type is the exact profile Licht drafted and then celebrated.
Arians told Yahoo! he wants Jameis to dial it all back, too.
But the coaching staff has cautioned Winston against focusing on the big picture instead of the task at hand.

"Just play quarterback," Arians said. "He's a natural-born, rah-rah leader. But just be the quarterback. You don't have to be the face of the franchise. That'll take care of itself."
To that, Joe asks the following: If Jameis can't freakin' handle being a face of the franchise kind of quarterback now, then what the heck is going to happen if the Bucs are actually good and playing in the national spotlight? And Jameis needs to function on and off the field like The Franchise?
In contrast to what Leftwich said, Joe's seeing an organization pushing hard to fix Jameis, changing his game as well as his personality and approach. That's a fix in Joe's book.
Hopefully, Arians knows what he's doing. Joe will talk to the football gods yet again tonight.