"We're Definitely An 8-8 Or Better Football Team"
August 30th, 2019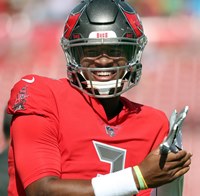 NFL predictions will be rolling in fast and furious over the coming days and a former Buccaneer officially has planted his 2019 flag.
A member of the Chucky and Raheem eras, ex-Bucs tight end John Gilmore now works for the Buccaneers Radio Network. He was a very critical and balanced voice last season when it came to assessing the team. Joe appreciated his candor.
After last night's game in Dallas, Gilmore broke down the roster and advised fans they should be feeling very good.
"We're definitely 8-8 or better football team. We're not going to have a losing season. I feel good about saying that," Gilmore said. "That's a confident prediction. … The system's different, the playcalling's different, the coaching is better … based on what we've seen, they should win some football games. … Buccaneers fans should be excited."
Amen to that.
Now 8-8 isn't much to celebrate, but it does represent a good record for any first-year regime coming off back-to-back 5-11 seasons.