"We Can't Win With OK"
August 5th, 2019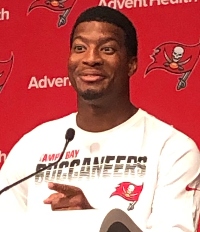 In past years, a "mic'd up" segment featuring America's Quarterback, Jameis Winston, would have been great theater, a virtual celebration of fiery passion.
Things have changed.
Whether it's Jameis or the video editing team at One Buc Palace, Joe can't be sure who is responsible for the presentation of a less exuberant Jameis.
Regardless, you can watch it below:
Jameis is shown as coach, leader and listener.
Also, it's not a long glimpse, but there's more evidence here of right guard Alex Cappa finishing plays, which has been a common theme for him in training camp. Cappa may not be special, but Joe suspects he'll never become a loafer.