Too Much Time
August 25th, 2019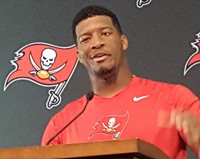 One of Bucco Bruce Arians' favorite quarterbacks of all-time, Tim Couch, the guy Arians coached in Cleveland, was talking Friday night.
Speaking on the Browns' preseason broadcast of their game in Tampa against the Bucs, Couch dropped an interesting stat: Browns QB Baker Mayfield only took one sack in the final seven games of last season. One! Per Couch, that largely was because of Mayfield's ability to deliver the football in 2.5 seconds or less from the time of the snap.
This intrigued Joe for a few reasons. First, one sack in seven games is ridiculous. Second, Mayfield was playing in Freddie Kitchens' offense, which is a lot like Bruce Arians'. Third, a key element of Arians' offense is delivering the ball quickly, which Jameis does not.
NFL Technology objectively tracks "Time To Throw" (snap to release) and Jameis Winston, America's Quarterback, has been near the bottom of the NFL the past three years, meaning he takes more time to throw than most:
2.88 seconds average (2016)
2.77 (2017)
2.80 (2018)
Under Arians in Arizona, Carson Palmer was among the best in the NFL at 2.49 seconds back in 2016. Who led the NFL in "Time To Throw" in 2017? Current Bucs backup Blaine Gabbert making five starts in Arians' offense in Arizona, and Arians says Gabbert is a perfect fit for his offense.
On Friday, Jameis said he was the cause of two sacks against Cleveland, essentially because he held the ball too long. Arians' Saturday comments jibed with that take.
"Two of the sacks, maybe three, were Jameis just staying downfield too long and not coming under to his underneath men," Arians said via TampaBay.com. "He would have had first downs twice by just taking the underneath stuff. He hung on to a touchdown pass a little too long, especially on the third-and-5 down in the red zone."
With opening day in exactly two weeks, Jameis' decision-making needs to speed up in a hurry.