"The Hot Boys" And The Bucs
August 19th, 2019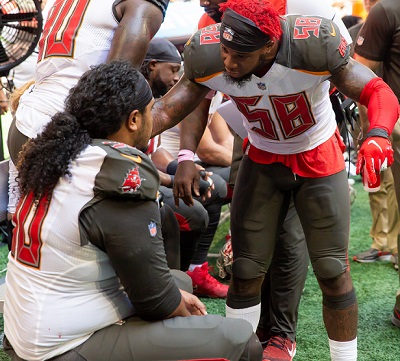 Bucs fans will get a decent look at their opening day opponent tonight on Monday Night Football.
The 49ers are fired up about "The Hot Boys" coming to Tampa in less than three weeks.
Yes, it's a stupid nickname for the reworked San Francisco linebackers corps led by Kwon Alexander. Kwon's knee was carved up with his ACL repaired in November. He recently was cleared to practice in full pads and the reviews on his play and influence have Niners fans all hot in the pants.
Chris Biderman of the Sacramento Bee wrote all about Kwon's impact, especially on second-year linebacker Fred Wagner.
Since signing Alexander to a four-year, $54 million contract, his high-octane personality has rubbed off on the rest of the linebackers, including Warner, who has become one of the loudest voices on the practice field. When stretching ends, Warner has regularly run to the other side of the field imploring his offensive teammates to match his energy for the day.

"Fred's coming into his own," defensive coordinator Robert Saleh said. "He wanted to, obviously, last year as a rookie, but having Kwon with him, because Kwon's very vocal, it's bringing out Fred. Fred's very confident and just a good football player, so they do what a linebacker group is supposed to do, so I won't pump them up for doing what they're supposed to do. It's a good group, though."
So here come "The Hot Boys." Joe will spare you more on the nickname and John Lynch raving about how Kwon is such an influential player. (C'mon, man, if he was that good, how did the Bucs so often suck so incredibly badly with him on the field).
Even with Nick Bosa banged up, there's loads of love in the other Bay area for their revived defensive line and defense, which wasn't bad last season. They even picked off Jimmy Garoppolo on five straight passes in practice last wee.
The Bucs won't have it easy on opening day. But if they can't beat San Francisco at home, then who can they beat?