Saints Sign Jacquizz Rodgers
August 3rd, 2019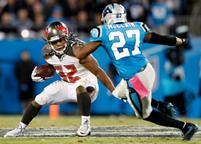 Arguably the Buccaneers' most reliable running back over the past three seasons (which doesn't say much) has a new gig, signed by one of the great offensive minds in the NFL.
Yes, Jacquizz Rodgers is continuing his nine-year career in New Orleans. He is a new member of the Saints, per New Orleans beat writer Herbie Teope.
Rodgers carried the ball 226 times for the Bucs (2016-2018) and racked up 910 yards on the ground for a 4.03 yards-per-carry average. He also caught 60 balls for 476 yards.
This is very intriguing, if Rodgers sticks and finds a way to look like a weapon, as did occasionally in a Bucs uniform but more often with the Falcons earlier in his career.
Joe wishes Rodgers well. At 5-foot-6 (maybe), he's quite an inspiration for short dudes everywhere.