Running Backwards
August 23rd, 2019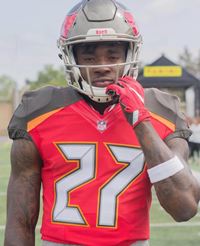 When Bucco Bruce Arians finishes filling out his famous accountability sheets for the Bucs offense against the Browns, Joe hopes there's one line there in bold type highlighted in red.
"HIT THE DAMN HOLE, RONALD JONES!"
It was 1st-and-10 early in the second quarter tonight and the Bucs were starting a drive from their 25 yard line. Jones' number was called for the handoff.
Jones ran right and presumably panicked, turning what probably would have been a two- or three-yard gain into a two-yard loss.
Jones pulled up and tried to bounce outside to the right without much juice.  Joe threw his notebook. TV analyst and Bucs icon Ronde Barber had a chuckle in his voice, "You're not going to find any joy trying to bounce that ball outside."
That just can't happen in that situation, especially on a first-down carry in which Jones should be comfortable, confident, fresh and focused.
Jones finished the night with a couple of good runs, 4 carries for 8 yards in total. Peyton Barber was worse with 3 carries for 3 yards.
The running game is sad and needs a lot of work.
Perhaps the real question is why those guys got seven combined carries while Jameis threw 19 passes. Arians keeps talking about how Jameis is going to have a running game and won't have to throw the ball 40 times a game. Well, isn't preseason the time to work on that goal?