Rein In The Replays
August 16th, 2019
BY IRA KAUFMAN
The Sage of Tampa Bay Sports
Any list of toughest jobs in America has to include roofing, oil rig worker and Gerald McCoy's publicist.
NFL cornerback is right behind.
This league is insatiable in its desire for more scoring, so every year the Competition Committee dreams up ways of making things harder for defensive backs.
The results speak for themselves.
In 2008, NFL teams combined for 646 touchdowns through the air. Ten years later, that number vaulted to 847. That's an average of six more TD passes per team in the span of one decade.
You used to be able to make contact with receivers down the field. Not anymore. You used to be able to pile-drive a quarterback into the ground. Not anymore.
Playing cornerback used to be difficult back in the day. Now, it's almost impossible.
And here comes a new wrinkle designed to test the mettle of Vernon Hargreaves, Carlton Davis, Jamel Dean and Sean Murphy-Bunting: pass interference calls, and non-calls, will be reviewable by instant replay during the 2019 season.
Good luck, gentlemen.
Out Of Hand
"I feel like the NFL officiating department and our coaches have spent a lot of time working on this," says Falcons President Rich McKay, chairman of the NFL's Competition Committee. "I feel very confident that we're getting on the same page and we're going to be able to successfully implement this change."
That confidence will be shaken if games are marred by a sea of challenge flags or controversial calls.
For example, what happens if Mike Evans catches what looks like a game-winning TD pass in the final seconds of the season opener against the 49ers, only to have a standard review reveal an illegal pick that wasn't called? That pick would be considered offensive pass interference, negating the score and triggering pandemonium at Raymond James Stadium.
There wouldn't be enough Maalox in the Bay area to soothe Bruce Arians' upset stomach.
I like scoring, too, but when is the NFL going to acknowledge that things have gotten out of hand? The delicate balance between offense and defense is off-kilter — and getting worse.
In 2008, 10 teams, including the Bucs, registered at least 20 interceptions. Only the Bears and Dolphins hit that mark last season. In 2003, Brett Favre was the only quarterback to throw at least 30 TD passes. Last year, there were nine.
Making pass interference reviewable was an initiative that hadn't received much traction in NFL circles until the gaffe that undermined New Orleans in the NFC title game against the Rams.
Arians and his peers might as well toss those challenge flags with impunity during the preseason to judge the new rules of the game.
"It's a work in progress," says Vikings coach Mike Zimmer. "They went quick with it and passed it at the owners meetings, and they're finding out there's some possible unintended consequences coming about."
The Bucs were flagged nine times for defensive pass interference in 2018, slightly above the league average of 7.78, but that number could increase significantly this fall. Todd Bowles is implementing a far more aggressive scheme, featuring press coverage as opposed to soft coverage, so DPI flags might be flying.
The 3-hour football game could also be an endangered species if replays aren't streamlined.
"I am disappointed because it's going to take away from the game," says new Hall of Fame corner Ty Law. "Referees are out there for a reason. Yes, they don't make every call right. But something like that, a pass interference, once you start opening that can of worms, it's going to get ugly, and the game's going to get a lot longer."
And a lot messier.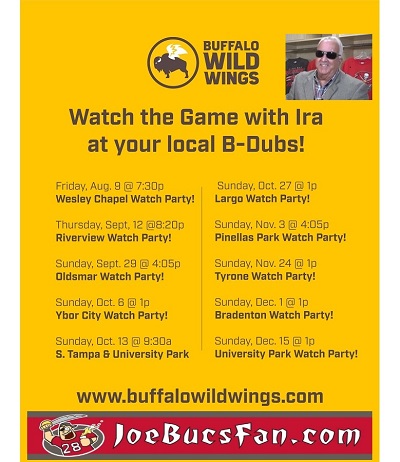 ---
TAMPA TWO is back with another episode with Derrick Brooks and Ira Kaufman, presented by Caldeco Air Conditioning & Heating. Lotta great perspective here. Enjoy this production from The Identity Tampa Bay and JoeBucsFan.com.