Pulse Of The Fans — Day 9
August 6th, 2019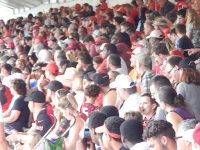 Bucs football is all about the fans, so Joe tasked manbeast JoeBucsFan intern Zach Seifter with questioning the Buccaneers faithful every day at training camp to get the pulse of the people on various topics. Here are the results of yesterday's interrogations:
Question 1: Blaine Gabbert or Ryan Griffin, who would you prefer to see backing up Jameis Winston this season? Provide one reason why.
Summary:  Answers quite lopsided in favor of Gabbert. A few fans said Griffin. Bucs fan Brad Ferguson chose Gabbert, no question. His reason related to Gabbert's experience in the NFL compared to Griffin's. "I think the experience. You need somebody to lead the team, an older quarterback. Kind of lead the team, be more mature about it," he said. Gabbert does have far more experience than Griffen, who has never taken a regular season snap in the NFL. That is really the only knock on Griffin, his inexperience. He has played admirably in previous training camps and preseasons. The regular season is where Gabbert has him beat.
Question 2: What player will be a breakout candidate for the Bucs this season?
Summary: This question received a large variety of answers. Noah Spence, Ronald Jones, someone even answered Devin White. But the one player who received more votes than anyone is the player who might be having the best training camp: Vernon Hargreaves. Bucs fan Matthew Perea is very high on Hargreaves: "If he matches the potential he showed when he was coming out of college, he definitely could be something." Hargreaves has been the best player in a young secondary that looks much improved. If he can keep up his strong play and, more importantly stay healthy, he could indeed be headed for a big breakout season.