Just About Everything Bruce Arians Said On SiriusXM NFL Radio
August 7th, 2019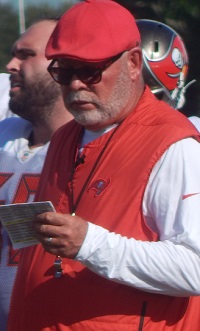 Yes, Bucco Bruce Arians dropped a few high-octane nuggets earlier today on the SiriusXM NFL Radio, whose training camp tour made its way to Tampa.
*Asked if he has regretted returning to coaching at any point, "Not really. This has been probably the most exciting training camp I've been in in a long time. You know, you kind of get in that grind for all those years and you realize what you missed."
*Asked to name his greatest challenge since arriving in Tampa: "This has been easy. These guys work. I mean, from Day 1 in the offseason all the way through every single practice. We've actually scrimmaged and tackled twice. Something I've never done in camp, just because when I watched film I didn't see a very good tackling team. We had to make that move. And the guys bought in."
*On Jameis Winston, America's Quarterback: Arians said Jameis has practiced as well as any quarterback he's been around the last three practices. "Spot on reads. Spot on accuracy. Deep ball. Everything you want in your quarterback in the last three practices, he's been it. It takes a little time in this offense. It's not an easy one to get."
*Arians reiterated that Jameis is a workaholic and is at One Buc before the head coach gets out of bed.
*Arians says taking things to heart is a big trait he loves that Jameis has. Arians implies Jameis believes he got his past head coaches fired.
*The 49ers have "a great young defense," Arians said.
*Chris Godwin is a "dirty work" receiver who blocks and can play over the middle but also can play outside. Arians says Godwin is unique because of that and Arians refers to him as a Larry Fitzgerald type.
*Vita Vea's knee health is unclear, as he said at his news conference.
*Arians says he believes offensive coordinator Byron Leftwich will be a head coach in the NFL and this Bucs staff is among the very best in the NFL.
*"Join in" if you want to make the playoffs, Arians says he has told players, keep doing what you're doing and you'll go 5-11.
*Arians says fighting is never an option or acceptable practice and won't be in the joint practice with the Dolphins next week.
*Building depth on both sides of the line of scrimmage is a major focus, Arians said.
*Arians says of Bucs receiver depth, the team has guys fighting for practice squad spots who would have made any team he has coached previously.
*The skills of Vernon Hargreaves and Carlton Davis fit the Bucs defense perfectly, Arians said.