"It's Not What You Do In Practice"
August 3rd, 2019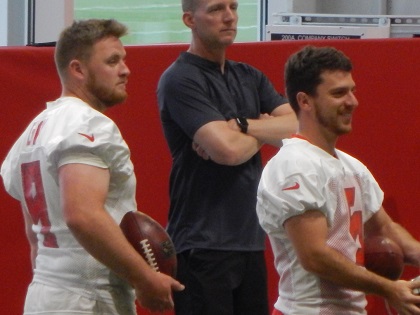 Clarity has finally come to the Buccaneers' 3 1/2-month old kicker battle.
Following the eighth training camp practice tonight, the man who will make that eventual kicker decision opened up on the evaluation process.
Bucco Bruce Arians was asked if one kicker, drafted rookie Matt Gay or Cairo Santos, was ahead of the other. Gay drilled a 62-yard field goal earlier in the evening, but that's not going to move the needle for the head coach.
"No. It's all about games. You know, it's not what you do in practice," Arians said of evaluating kickers. "It's what you do in games. Heinz Field's going to be one heck of a place to test [Gay]. He obviously has the distance. You know, he missed the extra point because he got lazy with it. And Cairo [Santos] had a heck of a day yesterday. Inside, he hit a 54 [yarder]. So it's been a good battle."
Overall, the kicking has been strong from both contenders through camp. But Arians has the right mindset. Practice kicks are about as valuable as Kenny Bell receptions, Ronald Jones runs in shorts, and a Ryan Smith pass breakup against Bobo Wilson.
The preseason isn't the regular season (the Bucs play the Steelers at Heinz Field on Friday). But it's the best gauge of what these kickers can do.