Eight First-Round Picks On Defense
August 6th, 2019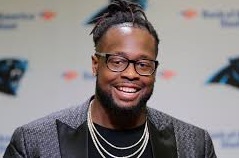 Joe's put a lot of study into this year's edition of the Carolina Panthers, primarily because the Bucs will face them twice in the first six weeks before a Week 7 bye.
And frankly, the Bucs season could be over at that point.
Joe is quietly praying to the football gods for that not to occur. October draft talk following, say, a 2-4 start by the Bucs would be too much for Joe to bear.
One stunning stat to consider is the Panthers have eight first-round picks on their defense. Eight! 
And that does not include Pro Bowl manbeast defensive tackle Kawaan Short, who was a second-round pick in 2013, one pick after the Bucs chose cornerback Johnthan Banks. (Can't blame that on Jason Licht!)
The Bucs, by contrast, have five first-rounders on their defense: Deone Buchannon, Ndamukong Suh, Vita Vea, Devin White and Vernon Hargreaves, plus injured Jason Pierre-Paul, a 2010 first-round pick.
The Panthers total of eight first-round picks really stunned Joe. That's a lot of raw talent. One of those eight, of course, is former Bucs Pro Bowler Gerald McCoy, who has become a fan, coach and player favorite on his new team.
McCoy was blubbering on NFL Network recently about how the Panthers have six or seven players who can beat 1-on-1 matchups en route to the quarterback. So he's expecting an extraordinary pass rush.
McCoy also was saying a big reason he took the Panthers gig was to practice against four-time Pro Bowl guard Trai Turner, a 2014 third-round pick who was taken 23 spots after the Bucs grabbed running back Charles Sims. (Yes, blame that on Jason Licht.)
For those wondering, the Bucs have five first-round picks on offense: Jameis Winston, Blaine Gabbert, Breshad Perriman, Mike Evans and O.J. Howard.