D-Line Focus In Pittsburgh Tonight
August 9th, 2019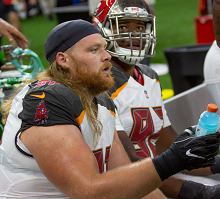 There are many moving parts of the Buccaneers to study tonight in Pittsburgh, but Joe's going to go out on a limb and say the defensive line is the most important.
No Vita Vea. No Jason Pierre-Paul. No Gerald McCoy. Joe's not about to pretend this is an established group ready to stop being the butt of jokes.
Joe wants to see improvement and promise. It's beyond critical. The Bucs aren't going anywhere without strong defensive line play. Few teams do.
JPP is a crushing loss. Vea's injury remains a mystery. Beau Allen has a lot to prove after his yawner of a season last year. Another coaching staff thinks it can revive Will Gholston.
Go ahead and bark all day about the offensive line, but they're all back and last year's unit had no problem moving the ball up and down the field. They didn't suck. Don't compare them to the defensive line.
Yes, Joe gets that Bucco Bruce Arians wants Todd Bowles to blitz often, but that doesn't negate the need for a strong D-line. Stopping the run doesn't mean Devin White tackling guys four yards past the line of scrimmage. And an effective pass rush often has to come from three or four guys no matter what defense you're playing.
General manager Jason Licht raved about the consistency of Shaq Barrett as a pass rusher in practice this week on SiriusXM NFL Radio. Great! Let's see it tonight.
The Bucs need Carl Nassib to prove last season wasn't a career year. Noah Spence is on his last chance in a Bucs uniform.
Joe's not worried about Ndamukong Suh in a preseason game. But there's plenty to see from the rest of the crew.
---
Derrick Brooks talks preseason value and more on this new TAMPA TWO episode presented by Caldeco Air Conditioning & Heating,  produced by The Identity Tampa Bay and JoeBucsFan.com.