Arians Changes Tune On QB Work Rate
August 1st, 2019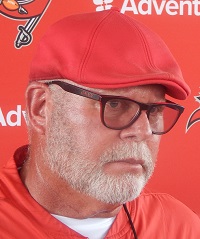 Tuesday comments from Bucco Bruce Arians to NBC Sports insider Peter King continue to clash with what Arians said back at the NFL Owners Meetings in Phoenix.
The subject was America's Quarterback, Jameis Winston.
"He has probably too big of a work ethic. He works too hard. I gotta slow him back down. Take some time off," Arians told King in a serious tone.
This is the same thing Bucs coaches were saying in very early May. So why is Arians still going there? Joe wonders wonder why things haven't seemed to change.
In March, Arians raved about Jameis' long hours, so Joe asked if there is a limit and whether there's a burnout point. Arians (like his predecessor) didn't think that was an issue or a consideration. Arians smiled and cited working with Peyton Manning who was simply unrelenting in his attention to detail and round-the-clock drive, he said.
Yet on July 30, Arians is still talking about Jameis working too hard.
It's all a bit perplexing. It sounds like coaches are struggling to keep Jameis on their desired schedule. Perhaps it's time for Arians to adjust how he guides Jameis?