A Cappa Win, Vea Domination, Hobbling Donovan Smith, Balance Issues & A Suspect Throw (Video)
August 2nd, 2019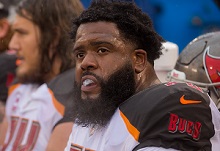 Yes, Joe was shooting video last night during training camp practice inside the Glazer Shed at One Buc Palace.
There a load to chew on in this clip.
And it's one you're going to want to watch several times.
You've got Vita Vea again eating Ryan Jensen for lunch with his power. Jensen gets off balance and appears to hold in order to hang on. However, Joe doesn't see a flag thrown by the officials at practice and Alex Cappa sheds his man and finishes the play very nicely helping on Vea.
This is a three-man rush for the Bucs, with Ndamukong Suh off the right edge. He's working on Donovan Smith but appears to be going half speed. Perhaps the reason is found when Smith visibly hobbles after the play. Remember, Bruce Arians said Smith has an Achilles issue.
America's Quarterback, Jameis Winston, gets a clear lane to throw but he's totally out of sync with his receiver. It happens. But it also can't happen in the red zone like this.
Enjoy!
Someone not on same page. pic.twitter.com/jOuKaPo5D2

— JoeBucsFan (@JoeBucsFan) August 2, 2019