"37 Mental Errors On Offense"
August 11th, 2019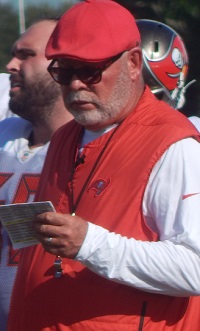 And here comes another peek at Bucco Bruce Arians' famous accountability sheet.
It's built into the fabric of his program and, man, Joe wishes he would just publish the daily log online. If Arians wants to raise money for his foundation, loads of fans would gladly pay $20 a month to pore of that info.
Speaking after practice today, Arians was asked about how the mental side of things were going. Arians appeared to answer while referring to the Steelers-Bucs preseason game on Friday night.
"Our young receivers had a really bad night. We had 37 mental errors on offense; they had probably 21 of them," Arians said. "So they gotta pick their stuff up for this next game."
The good news is Arians said the first- and second-teamers were rather solid.
Joe loves how Arians itemizes errors. As he cautioned the day he was introduced at One Buc Palace. Don't land on that accountability sheet too often. Because that means "you're either too dumb to play here or you don't give a sh*t."