"The Glazers Were Not Real Fired Up"
July 31st, 2019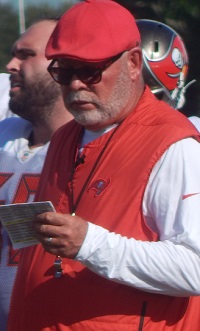 Imagine the looks on the faces of Team Glazer when they sat down to hire one of the great head coach/playcallers in recent NFL history and he tells them he doesn't want to call plays.
Keep in mind these are the same owners whose previous head coach refused to get involved with trying to fix a rotten defense. And the head caoch before that took the job and immediately insisted Josh McCown would be the quarterback to lead the team to the playoffs.
Only the Bucs.
Yes, Bucs offensive coordinator Byron Leftwich is calling the plays and Arians has vowed to not be hanging on his shoulder too much.
According to Andrea Kremer, who spent a load of time with Arians for an HBO Real Sports feature last night, Team Glazer was not happy about Arians' choice to delegate.
"The Glazers were not real fired up that he said he's not going to be calling the plays," she told TampaBay.com.

Arians admitted he had to sell the Glazers on 39-year-old Byron Leftwich serving as offensive coordinator and play-caller. It's a first for Leftwich.

"Yeah, there was a real good conversation about it,'' Arians said. "I said, 'Just trust me. My hand is there. I'm right over his shoulder. He is trained and ready to go.' It's just something I wanted to do.''
Every owner sits down with a head-coaching candidate and asks, 'What's your plan?'
Arians told Joe back at the NFL Owners meetings in March that he came to the table with Team Glazer ready with a very distinct plan, and Team Glazer confirmed that to Joe during that week. But it's no surprise to hear Team Glazer waved a red flag at the idea of Arians not calling plays.
Kremer made the case yesterday in the HBO feature and on WDAE radio that Arians is delegating playcalling, in part, to preserve his health. The formula is something like, less hands-on responsibility = less stress. Joe's not buying that for a minute, not for a football coach who is all-in.
Regardless, Team Glazer signed off on Arians' plan, so they have to own it.
Norv Turner, Sean Peyton and Dirk Koetter are the other playcallers in the relentless NFC South. Joe sure hopes Arians trained Leftwich darn well.