Day 5 Training Camp, News, Notes & Nuggets
July 31st, 2019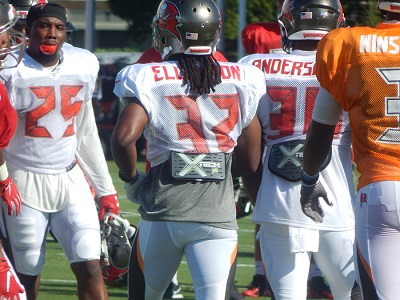 UPDATED 1:17 a.m. – It was a hot, sunny Day 5 training camp practice at One Buc Palace. Both sides of the ball went back-and-forth in an energized 2 1/2-hour session. Here's what you missed:
*After warmup and handoff drills with running backs, the quarterbacks move on to passing drills with the RB's. No balls hit the ground.
*RB's out, TE's in. Cameron Brate makes an incredible catch on a pass from Jameis Winston. He gets applause from the crowd. One fan yells out, "That's why you're the man!"
*Pass protection drills begin on the second field. Running backs and offensive linemen have to hold off blitzing linebackers and defensive backs:
*Rookie safety Mike Edwards vs OT/OG Mike Liedtke: Edwards shows speed and quickness to blow right past him Liedtke for the sack.
*Lavonte David vs Ryan Jensen: Jensen gets good push, but David uses his strength and speed to get close to the quarterback.
*Devin White vs Ronald Jones: RoJo showing his strength to keep Devin White off the QB! White tried to make a move but RoJo stopped him in his tracks.
*RoJo vs Kentrell Brice: RoJo again holds his ground, causing Arians to turn around and give him props. RoJo looking stellar in pass protection.
*The first 11-on-11 session kicks off and here comes a play-action pass. Dotson shoves potential sack over to right in front of Jameis, who steps up and delivers laser to Mike Evans for a 20-yard gain.
*On the next play, RoJo finds daylight on the left side and takes it for a huge gain.
*O.J. Howard vs Vernon Hargreaves: Hargreaves lines up in the nickel and keeps pace with Howard. Blaine Gabbert steps and zips it to Howard but Hargreaves skies for the ball and comes away with the pick! Incredible athleticism by Hargreaves, who continues to have a stellar camp. After the play, Hargreaves makes his way over to the crowd and spins the ball on the ground, getting them fired up.
*More rushing plays follow as Dare Ogunbowale breaks through on the right side for a 6-yard gain.
*After a water break, 11-on-11 play continues, and on the first play, Jameis finds an open Mike Evans for a 5-yarder. Evans beats rookie Sean Murphy-Bunting on the quick slant for the short gain.
*A couple of plays later, Hargreaves is matched up 1-on-1 with Evans, and Jameis finds him deep for a 40-yarder.
*Gabbert back in now. A safety blitz is dialed up by Todd Bowles, sending Kentrell Brice in for pressure but it gets picked up by the offensive line. Gabbert has all day to throw, but he trips on his own feet while he pump fakes and falls on his butt to sack himself.
*The offense is now getting to work inside the 25-yard line.
*1st-and-10 at the 25. Play-action pass, the offensive line picks up the blitz and Jameis goes to Howard in the end zone who originally looks to make the catch, but Jordan Whitehead gets his hand in and knocks it out of Howard's hands. A touchdown saved by Whitehead.
*3rd-and-5 at the 15-yard line. Jameis scrambles away from the blitz to the right side and finds Evans streaking across the middle for a 10-yard gain and a first down.
*Second team now on the field. 2nd-and-5 on the 20. The handoff is to RoJo who makes a cut to the right side and finds a hole for a 12-yard gain.
*3rd-and-5 at the 15. In comes the blitz and Shaq Barrett goes untouched as he could've pummeled Gabbert. …Gabbert flips it to Cam Brate in the flat. First down..
*2nd-and-goal at the 8. The offensive line gets amazing push as Dare Ogunbowale goes untouched into the end zone.
*Devin White vs Jordan Leggett: White lines up in the slot and is pushed aside by Leggett. Griffin fires to him and Leggett comes down with an incredible one-handed TD catch.
*The kicking competition is back on full display and Santos was not as sharp today as he's previously been. He goes 7-for-10 with misses from 40, 53, and 65. He does nail one from 61 yards out, right down the middle.
*7-on-7 work kicks off.
*De'Vante Harris gets matched up with Mike Evans in the slot and Harris doesn't stand a chance. Evans puts a nice inside move on Harris and blows by him, getting open for a 15-yard reception over the middle.
*Relatively quiet session, a lot of check downs from the quarterbacks.
*Oh boy. Evans is down and the cart is brought out. He's moving his legs and holding his stomach, yelling as he's being helped onto the cart. Evans gives fans a thumbs up as he's being driven inside. Looks like it could be an abdominal cramp. He wasn't playing, was just standing with the rest of the players and just went down. Heat might've gotten to him.
*11-on-11 play comes back with Jameis looking sharp. Hits a few short throws and even has a smart throw-away. Jameis shows good decision making during this session.
*The horn blows and it's now time for the first-team offense to sustain a drive against the defense.
*1st-and-10 at the 25-yard line. It's a screen play from Jameis to Scotty Miller for 7 yards.
*2nd-and-3. Jameis hits Breshad Perriman for a first down at the 37.
*1st-and-10 again. Jameis hits Miller again for 12 yards.
1*st-and-10 at the 49-yard line. Peyton Barber gets stuffed at midfield for a one-yard gain.
*It's now 2nd-and-9. Jameis sacked by Devin White for a 5-yard loss.
*3rd-and-14. Jameis hits RoJo who breaks a few tackles and is streaking down the left sideline, but the ball is stripped by M.J. Stewart. The ball is picked up by Jordan Whitehead who goes back the other way. Jameis sprints and throws his body at Whitehead trying to make the tackle, but Brate is eventually the one who brings him down.
*Second team is brought in and Gabbert is immediately sacked! He follows it up with an incompletion before being sacked again on 3rd-and-20. Punt time.
*First team back out. They start the drive at the 31-yard line. Jameis Scotty Miller over the middle for 15 yards.
*1st-and-10 on the 46. RoJo busts one to the right and is off to the races down the sideline! He hits another gear and takes it all the way to the 4-yard line. M.J. Stewart caught him. (Perhaps Stewart is faster this year? Joe doesn't want to think of RoJo being slower.) On the next play, RoJo punches it in for six points!
*The second team comes back out now. On 1st-and-10 at the 25, Ogunbowale gets the carry and takes it up the middle for 8 yards.
*2nd-and-2. A screen pass to Ogunbowale, who takes it for 22 yards to the defense's 45-yard line.
*1st-and-10. Gabbert tosses it to Bruce Anderson in the flat for a 12-yard gain to move the chains.
* 1st-and-10 at the 33. The ball is handed to Anderson who takes it up the gut to the 24 for a 9-yard gain.
*2nd-and-1 at the 24. It's a play-action and Gabbert finds Justin Watson in the left corner of the end zone for the touchdown!!!
Manbeast JoeBucsFan intern Zach Seifter continues to do the heavy lifting on the practice notes. Send the man some love in the comments.