No Longer "Totally Fixed"
July 10th, 2019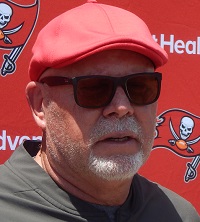 Today was a very bad day for Bucco Bruce Arians, dealt his second crushing blow in the past two months.
And yes, if one believes the words of Arians on May 31, today's news of Ryan Smith getting busted for using performance enhancing drugs (did they work?) is a crushing blow.
At the conclusion of 10 days of OTA practices, Arians told the world his once suspect secondary is "totally fixed." And that included love for the guy who was just suspended for four games.
"Yeah, probably secondary, we're really, really good," Arians said with extra energy in his voice. "With Carlton [Davis] and Vernon [Hargreaves], we knew we had two solid corners. Now we got five solid corners. Ryan [Smith] came along. So yeah, earmarked as a problem set back in January, it's totally fixed. Just knock on wood they stay healthy."
What magnifies the Smith loss (if it is one) is that now the Bucs are down to four solid corners, per Arians. Keep in mind Smith was the corner with the most experience, 31 games at the position versus 24 for Vernon Hargreaves. And perhaps he had improved under better coaching.
Joe's not about to cry over the loss of Smith, but Arians did call out his value to the team.  At this point, the Bucs will be in a real bind if they lose another corner to injury or suspension. Those first four games are so critical to this team's collective psyche.
---
It's Bucs legend Derrick Brooks and media legend Ira Kaufman on an all-new TAMPA TWO, a production from The Identity Tampa Bay & JoeBucsFan.com.
Brooks gives great insight explaining "all you need to know as a player" and what he looks for in practice, and much more. Enjoy!